Microsoft FUSE Labs just rolled out an update to their Docs.com service, touted a "major backend update" with performance and stability improvements. In addition, this update also introduced support for 30 different languages (dialects) which allows users to create documents in their own languages – or even mix multiple languages in the same document. Together with this, Docs.com also now supports spell checking in the 30 different languages supported. Here's a screenshot of this in action: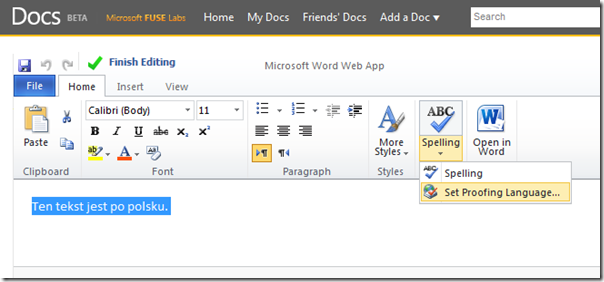 Here's the list of 30 languages (dialects) supported by Word Web App on Docs.com:
English (US) (default)
Arabic (Saudi Arabia)
Chinese (PRC)
Chinese (Taiwan)
Czech
Danish
Dutch (Netherlands)
German (Germany)
Greek
Finnish
French (France)
Hebrew
Hindi
Hungarian
Italian (Italy)

Japanese
Korean
Norwegian (Bokmål)
Polish
Portuguese (Brazil)
Portuguese (Portugal)
Romanian (Romania)
Russian (Russia)
Slovak
Slovenian
Spanish (Spain)
Swedish (Sweden)
Thai
Turkish
Ukrainian
While the Word Web App in Docs.com now supports multiple languages, it's interesting to note that the Docs.com website itself is only available in English. Nevertheless, it's good to see that FUSE Labs is constantly updating their Docs.com website – perhaps even more frequently than the teams at Windows Phone and Windows Live!