Last fall Google CEO  Eric Schmidt admitted that "our biggest competitor is Bing", and with the Bing/Yahoo! search alliance firmly in place, numbers for Bing are increasing, or "growing like a weed", as Microsoft CEO Steve Ballmer said in a video piece at CES with CNBC's Maria Bartiromo.
The latest Experian Hitwise numbers, released yesterday, are showing continued increases for Bing, and continued stagnation for Google: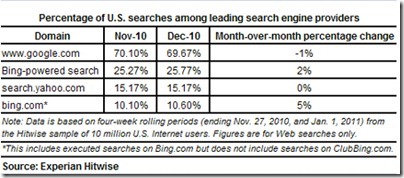 But in what seems to be a growing trend as well, Google has been taking some heat lately for the number of spam results in its search results.  Recent articles from Search Engine Land, and TechCrunch have taken Google to task, and Anil Dash recently portrayed a trio of search quality related Google web posts, all seemingly started by Jeff Atwood's Trouble in the House of Google.
The Hitwise December numbers also point out Bing's strong advantage in "success rates", or the percentage of time a search results in a visit to a website:

Even while Bing suffers from some of the same spam corruption that Google does, its 81% success rate is much higher than Googles, at about 65%.
Peter Yared in VentureBeat's MediaBeat notes that Google is working to solve the problem – by increasingly relying on "instant answer" type results:
Over the past couple of years, Google has progressively added vertical search results above its regular results. When you search for the weather, businesses, stock quotes, popular videos, music, addresses, airplane flight status, and more, the search results of what you are looking for are  presented immediately. The vast majority of users are no longer clicking through pages of Google results: They are instantly getting an answer to their question
Of course this is an area that Bing has invested heavily in, building not only instant answers, but in some cases full pages for entertainment related search queries, offering up song snippets, videos, lyrics, and more all from a single page.
Google is also beginning to have to deal with some very Microsoft-ish problems, too:  as a number of anti-trust inquiries are surfacing, from both the US and from the European Union.
So, are we seeing cracks in the armor?  Or is this just a tech meme running its course?