Micorsoft just held a special press conference at 1pm PST, featuring Steven Sinofsky, President of the Windows and Windows Live division, giving us a preview of what's to come in this evening's keynote.
Perhaps the most interesting (and surprising) news from this special press conference was the unveiling of Microsoft Surface 2.0. According to Sinofsky, this new version of Surface is powered by a multicore CPU and GPU by AMD and will be manufactured by Samsung in a partnership with Microsoft. What's special about the new version is that the new Surface is just 4″ thick and uses the new PixelSense technology where every pixel is an infrared sensor (instead of a camera like the old Surface), making the device slim enough to be wall-mountable. The new Surface also features the biggest piece of Gorilla Glass ever produced. Sinofsky demonstrated the accuracy of the new PixelSense technology by placing a piece of paper in front of the Surface and the device was able to read the text accurately.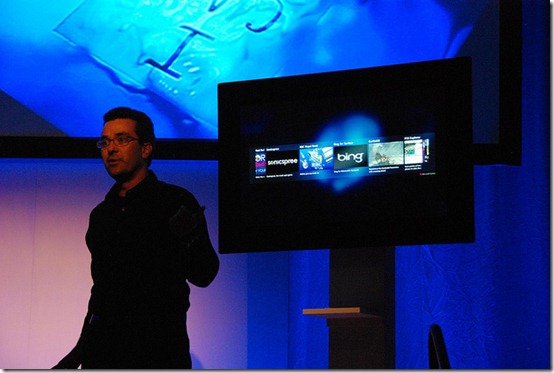 Sinofsky announced that Royal Bank of Canada will be one of the first customers of Surface 2.0. To lure potential customers, Microsoft had priced it at a lower price point compared to the original Surface. Guess it won't be long until it's affordable enough for us all to get one!
The second announcement is about Microsoft's "next version of Windows" supporting System-on-a-Chip (SoC) architectures, including ARM-based chips. The initial launch partners for SoC will include AMD, Texas Instruments, Intel, ARM, nVidia and Qualcomm.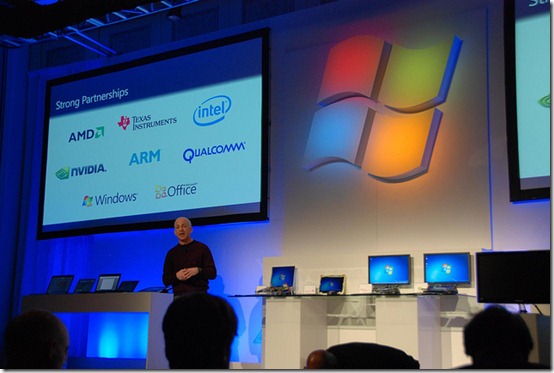 While no new user interface was demonstrated, the significance of this announcement is that Windows 8 will now be able to run on architectures that only Windows Embedded (which includes Windows CE, the underlying OS Windows Phone 7 is based on) had been able to run on before. This means that Microsoft will now be able to bring the full set of functionalities of Windows to more form factors, including slates and tablets, and not be limited to the functionalities of Windows Embedded on these form factors. With this made possible, Microsoft will be able to specifically customise its user interface for its slates and tablets. In fact, Paul Thurrott from WinSupersite leaked information about a possible new UI for Windows 8 – codenamed "Mosh" – and will be an alternative UI specifically designed for lower-end devices such as tablets and slates. Previous rumours suggests that the full user interface for Windows 8 will be codenamed "Wind" and will only be supported by high-end notebook and desktop PCs with dedicated video cards.
Perhaps Microsoft is taking a different route for its slates compared to Apple and Google – rather than expanding their mobile OS (i.e. Windows CE) to the slate form factor, it will be stripping down and customising its core OS (i.e. Windows 8) instead to fit this new form factor – a form factor which requires a very different set of user interface and requirements in comparison to traditional PCs and notebooks. We'll have to wait to see if this strategy will win out from its competitors for now.
Stay tuned for more news coming from the main CES 2011 keynote by Steve Ballmer later this evening!
Thanks to Long Zheng for the photographs.