Depending on which count you use, Windows Phone Marketplace has just, or is just about to top the 5,000 app milestone.  A steady stream of apps continue to be approved each day (with a bit of slowing over the holidays, understandable).  We should see quite a surge of new apps and new interest in Windows Phone in early 2011, fueled by expected announcements and updates coming from CES in early January and the Mobile World Congress in February.
A number of Windows Phone app tracking sites are popping up, too.  Our favorite is WP7Applist.com, who created the widget in our sidebar, and has a nice page of app stats: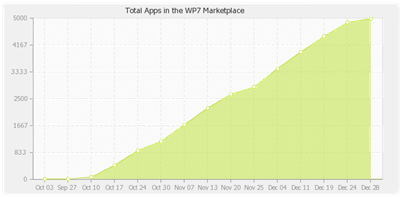 Of course you can find Windows Phone 7 apps in the Zune software, under Marketplace/Apps, on Bing in Visual Search (Bing/More/Visual Search/Featured Apps/Top Windows Phone 7 Apps), which is featuring the top 3000 apps, and in MarketplaceBrowser.com, which currently shows 5,022 apps in the Marketplace, to WP7Applist.com's 4,986.
Any way you count them, the steady influx of apps into the Marketplace is a good sign, and while Microsoft continues to be coy about the numbers of Windows Phones sold to consumers, there is certainly interest at least from the developer community in the new mobile platform.