Good news for Windows Live users, and Windows Live plugin writers, a new page, apparently a replacement for Windows Live Gallery (gallery.live.com) has appeared, at http://plugins.live.com.  The new page will serve as a host for plugins for Windows Live Photo Gallery, Windows Live Movie Maker, and Windows Live Writer: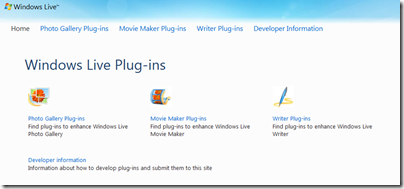 Last August, a blog post from Aaron Bregel, a test lead for Windows Live Writer, announced that plugins would have to be moved off of Gallery.  At that time, Bregel laid out a series of steps for plugin developers (like our own Scott Lovegrove) to host their plugins on their own SkyDrive folders, and provide a link to Windows Live Writer, who would then promote the plugins on "a public page".
That process has changed somewhat apparently, according to the "Developer Information" page on Plugins.Live.com.  Instead of having to host the plugin files themselves, developers now have the choice of emailing the .msi files to Windows Live, who will then host and promote the plugins (or developers can choose to continue to self-host on SkyDrive and just send a link.  The developer page has more information on the particulars of how to get your plugins listed.
Plugins.live.com currently lists 11 Windows Live Photo Gallery plugins, 3 for Movie Maker, and 177 for Windows Live Writer.  To be honest we're not exactly sure how long this page has been active (we hadn't noticed any postings about plugins at all after the Aaron Bregel post in August), but sharp-eyed blogger and LiveSide friend Vasudev noticed it and posted today, thanks for the heads up!