While Microsoft has been quick to tout its early sales of the Kinect gaming controller for Xbox (update: right on schedule, Microsoft announced today that 2.5 million Kinects have been sold),  we haven't heard a peep really about Windows Phone sales in its first month or so.  There was that report of 40,000 first day units sold, and granted early sales may have been hampered by availability, as numerous reports of sellouts and low initial stock surfaced in the first few days of sales.
Now today, however, a couple of new reports, while not official and to be taken with several grains of salt, seem to bolster the perception that early sales of Windows Phones are, well, low.
First, our friends at WMPowerUser.com have been tracking Facebook applications for Windows Phones, showing some 117,000 monthly active users of the Windows Phone Facebook app, along with some 83,000 users of the official Facebook App for Windows Phone.  Of course it's open to speculation how many Windows Phone users connect to Facebook using either app, but it's certainly safe to assume that a majority would.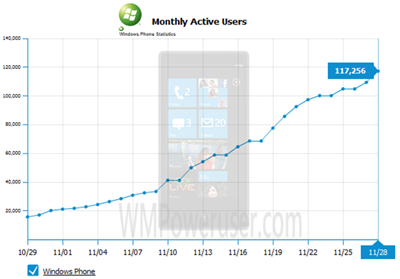 Then, WPCentral.com reports that a UK mobile phone reseller, MobilesPlease.co.uk, reports that Windows Phone sales are not going so well in the UK, at least not on their site:
Although numbers are hard to come by, a blog post from online retailer MobilePlease shines some light on the poor sales of Windows Phone 7 so far.  In the post, the large online retailer gives some details:

Windows Phone 7 has got off to a sluggish start as far as our customers are concerned, accounting for just 3% of smartphone sales and a little under 2% of overall sales through MobilesPlease.co.uk and our network of partner sites that share our data feed.

They then go on to mention how Symbian is still outselling WP7 3:1 and that overall, interest is low, even when they asked "a few local high street mobile phone retailers, both network owned and independent" their thoughts.
There are also a number of sites reporting on some intriguing tweets by Chris Walsh, one of the principals of ChevronWP7, a somewhat controversial app side-loader/unlock tool that came out last week.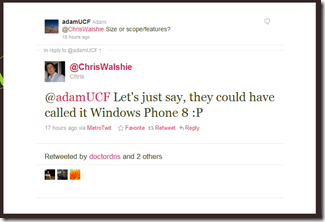 Chris is promising a "MASSIVE" update for Windows Phone 7 in January.  Chris is even promising to post some screenshots later today (maybe) , according to WPCentral.