So you think that having Messenger on your PCs and Mobiles is not enough for you? Back in January this year, we reported that Microsoft is negotiating with TV manufacturers about delivering Windows Live services to internet-enabled TVs. Well here's the good news – Microsoft and Samsung have announced that they've partnered together to bring Windows Live Messenger to all Samsung Connected TVs. Not only this, but the application will soon be coming to Samsung's internet-enabled home theatre systems and Blu-ray players as well.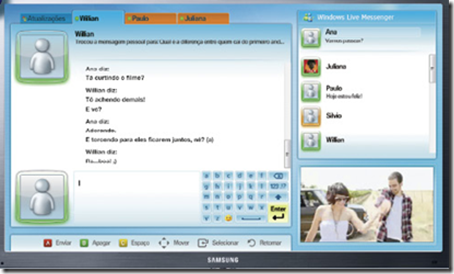 Here's what the Windows Blog for Brazil said about this (translation courtesy of Bing Translator):
Samsung and Microsoft have worked together to develop a program interface be practical and friendly in TVs, to be accessed by those who already use Windows Live Messenger on your computer or mobile phone.

The user can sign in with your account, to interact with your contacts. Through remote control, you can view and send messages similar to the program on your computer. The application lets you chat with your friends while watching your favorite show, on a smaller window. Or watch a TV show and show the Messenger contacts on the side of the screen, minimized. And there is still a screen with the updates of your friends ' activities in the Windows Live network.
Besides being part of Windows Live Essentials for PCs, Windows Live Messenger is already available on Macs, iPhone, Blackberry, Nokia, Xbox, Zune and Windows Phones. Windows Live Messenger is also accessible via the browser through Web Messenger on all Windows Live services, and for feature phones, a mobile version of Web Messenger also available. With Messenger, Microsoft is definitely trying to realise the "3 screens and the cloud" vision. However, this is not the first time Microsoft is trying to bring Windows Live to the TV. Back in December 2006, Microsoft started developing Windows Live for TV (codenamed Nemo or Orbit) – an extension for Windows Media Center which provides access to Spaces, Messenger, and Windows Live Call. The first and only beta only featured Spaces integration, and after almost two years of silence, the project was discontinued.
We certainly hope that this will take off, as Panasonic and LG is already offering Skype to their TVs. For Xbox 360 and Kinect owners, they can connect their TVs to Messenger via Video Kinect. Let's hope that Microsoft continue expanding their Windows Live offerings to more and more devices, realising the "3 screens and the cloud" vision. Now speaking of which, why isn't Microsoft building their own Messenger app for Windows Phone 7? Based on the comments on Zune marketplace, it appears that the "Messenger by Miyowa" app doesn't even support Multiple Points of Presence (MPOP), and scores an average rating of a mere 1.5/5. What are you doing, Microsoft?
(Thanks to Anderson C. for the tip!)