Some new numbers published yesterday by Compete.com may be surprising to some: although popular sentiment is that "everyone uses Gmail", the numbers don't bear that out.  Here's a pie chart of US internet traffic to web-based email clients for September 2010, via Compete: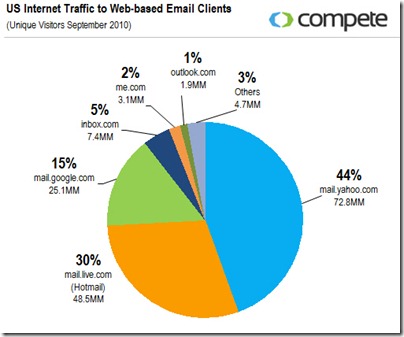 Blog author and Senior Manager of Internet Marketing, Drew Fortin, was surprised by the numbers:
If you were to ask me what the most popular email client was before reviewing this category, I would say Gmail without a doubt.

Based on unique visitors from the US IBP (internet browsing population), Gmail doesn't even hold a candle to Hotmail (94% larger than Gmail) and Yahoo Mail (190% larger). Gmail's buzz is obviously much larger than it's bite.
However Fortin also points out that web based email traffic seems to be slowing, shown on this chart: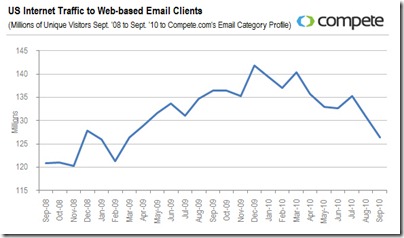 Of course the landscape may change dramatically soon as Facebook appears ready to launch a web-based email client of their own, code-named Trident, according to TechCrunch:
Our understanding is that this is more than just a UI refresh for Facebook's existing messaging service with POP access tacked on. Rather, Facebook is building a full-fledged webmail client, and while it may only be in early stages come its launch Monday, there's a huge amount of potential here.
And just to complete the circle, Mary Jo Foley is reporting on a rumor she's hearing that "Trident" may have tie-ins with Microsoft's Office Web Apps, something already explored with the Microsoft Research/Facebook project dubbed "Docs".