I recently came across an article on Neowin which mentioned that an upcoming Google product might be coming soon to Google Docs – named Google Cloud Print. While reading this article, it led me to think back to what Microsoft had in mind in this area exactly 2 years ago – using Live Mesh to realise the potential of the cloud.
First, you may ask, what is Google Cloud Print? According to Google Code Labs:
Google Cloud Print is to build a printing experience that enables any app (web, desktop, or mobile) on any device to print to any printer anywhere in the world.

This is accomplished through the use of a cloud print service. Apps no longer rely on the local operating system (and drivers) to print. Instead, as shown in the diagram below, apps (whether they be a native desktop/mobile app or a web app) use Google Cloud Print to submit and manage print jobs. Google Cloud Print is then responsible for sending the print job to the appropriate printer, with the particular options the user selected, and providing job status to the app.
Now, you may or may not remember, but Microsoft had a very similar idea long time ago through the use of what was then still an incubation project – Live Mesh. During PDC2008, Microsoft demoed to their audiences the concept where Live Mesh for Devices can support "mesh devices", such as computer peripherals like printers, such that users can print from any devices to their designated printers via the cloud. Through Live Mesh, users can even monitor the status of their "mesh printers" like checking ink levels and what documents they've recently printed. Here's a screenshot shown in the demonstration back then: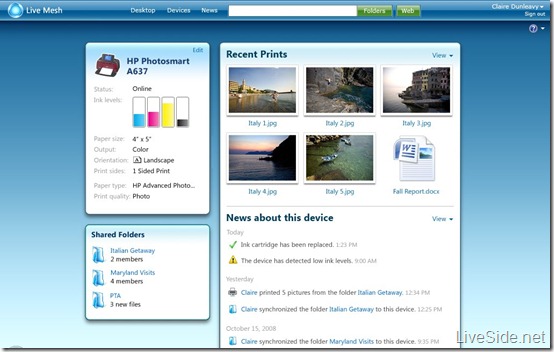 If the entire Live Mesh project's vision was followed through, we'd probably be seeing this vision eventuate. We'd be seeing Windows Live where Office Web Apps (and others like Windows Live Photos) built upon SkyDrive synced storage (the "cloud storage" component for the current Windows Live Mesh, but possibly with 25GB or more storage) and all documents and photos on this cloud storage can be synchronised across the cloud to individual "mesh devices" with Windows Live Mesh. Microsoft would be able to extend the Live Mesh API to different devices and peripherals like printers and digital photo frames, and files on the cloud (either on your computer, or on SkyDrive) can then be synchronised to these devices, then directly printed or displayed using these devices.
But of course, that vision never eventuated, at least not with the current state of Windows Live Wave 4. What we saw was a restructure where the Live Mesh team merged into Windows Live, headed by Sinofsky, and the incubation project was taken apart. While Windows Live Mesh and Windows Live Devices is built upon the old Live Mesh client and Live Desktop, the other components like the Live Mesh APIs and Live Mesh for "Devices" clients (such as phones, Home Server, Xbox, Zune, Ford SYNC, printers, digital cameras, and digital photo frames) simply went missing. The potential for Live Mesh was there, but Microsoft has either forgotten about them, or is taking their time with it (perhaps we might see them 5 years later with Wave 6?). The situation certainly doesn't improve with Ray Ozzie, the founder of Live Mesh, soon leaving the company.
So Microsoft, what are you waiting for? You've had the right idea, and you've had a go with it before, now all you need to do is to get in the game and turn that vision into an actual product. Your competitor is already hard at work getting this out of the door as quick as possible, and with technology, timing is everything. With Windows Live Wave 5 currently in planning phase, perhaps the team should look ahead (and behind at what they've already had with Live Mesh) and bring the products back to the front of the league. After all, you're all in with the cloud, right?