Last month Microsoft announced a string of updates to be rolled out to Hotmail users within the next few months. The updates included Facebook chat support within Hotmail's web messenger, sub-folders support, increase in attachment size limit to 25MB, new partners for ActiveViews (FedEx, Dailymotion, and Justin.tv), and the release of Office Web Apps and SkyDrive integration worldwide. It appears that these updates have been rolled out to a majority of Hotmail users as of yesterday. Here's a screenshot of the new Facebook chat in Hotmail in action: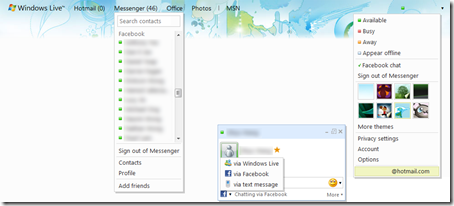 However, besides these officially announced new features, we've also noticed some nice additions to Windows Live Home, Hotmail, Contacts as part of this update. Here's some of them that we've noticed:
Sadly, it appears that full-session SSL support has not yet been enabled as part of this update, but we expect that this will be coming very shortly to Hotmail, Calendar and Contacts. Have you noticed any other changes as part of this update? Let us know by leaving a comment below!